News
ICLP Arbitration Centre announces the appointment of a New Secretary General 28th June 2013
Contact Us (Address and contact details, Google Map and Inquiry form)
Institute for the Development of Commercial Law and Practic
ICLP Arbitration Centre announces the appointment of a New Secretary General 28th June 2013
Contact Us (Address and contact details, Google Map and Inquiry form)
Institute for the Development of Commercial Law and Practic
News
ICLP and Commercial Arbitration
International commercial arbitration is the most favored dispute resolution mechanism in cross transaction for the reason of confidentiality, enforcement of the arbitral award internationally, use of professionals in various disciplines as arbitrators, expeditiousness against prolonged litigation etc
Institute for the Development of Commercial Law and Practice (ICLP) a not for profit company established in 1992 with the support of business sector established the ICLP Arbitration Centre in 1996 under the aegis of ICLP. The Centre administers arbitration under the Rules of ICLP Arbitration Centre, which are modeled on the UNCITRAL Rules and Stockholm chamber of Commerce Rules. ICLP was in the forefront in lobbying for Arbitration Act No 11 of 1995 and with the support of Swedish International Development Agency and SWEDECORP, ICLP was able to conduct various programs and workshops locally and internationally for promoting and disseminating knowledge on Arbitration in order to make Sri Lanka a neutral hub for arbitration.
However, the Arbitration as a dispute resolution mechanism has not achieved the best and expected fruition due to various adversarial and hindering practices adopted by the Tribunal members, Attorneys at Law and parties.
Since 2005, in furtherance of reaching the objectives of ICLP and creating a productive arbitration culture, ICLP launched a Diploma Course in Commercial Arbitration, covering General Principles of Law, Arbitration Law and Procedure, General features of International Arbitration, Construction Arbitration and Pleadings and Award Writing. This was conducted by eminent legal luminaries and professional from the construction industry experts and was well received by the engineers, quantity surveyors, Attorneys at Law etc especially from the State bodies. The video Mock Arbitration, a production with the support of Swedish experts has been an important tool in this process. ICLP has produced over thousand alumni to date from various professional disciplines and we are proud to note that they practice as arbitrators, counsel etc with more confidence in the arbitration process.
Moving forward, ICLP in collaboration with the Ceylon Chamber of Commerce (CCC) established the International Alternative Dispute Resolution Centre (IADRC) which has widened its scope for commercial Mediation, negotiation etc. ICLP has been able to produce teams of accredited Arbitrators and Mediators from Chartered Institute of Arbitrators which enriches the quality of Sri Lankan dispute resolution.
IADRC launched its Rules for Arbitration in keeping with the international developments. ICLP adopted the same Rules effective from 1st April 2021 to keep abreast with the same.
In diffusion of knowledge and experience sharing, ICLP recently conducted a Certificate Course in Commercial Arbitration in collaboration with SLQS Qatar. Extending the same, ICLP has scheduled a Q & A session as a CPD event in partnership with SLQS Oman.
ICLP Certificate Course on Commercial Law
A successful business owner should be equipped with the knowledge which is needed to keep the company out of various legal issues. The laws relating to business transactions, rules and regulations a business must comply with, rights, obligation, and the conduct of people associated with business, dispute resolution etc plays a key role in operating a business.
The ICLP Certificate Course in Commercial Law is formulated with the objective of enlightening the participants on these requisites. The course is specially targeted at business community, entrepreneurs, Attorneys at Law, professionals, under-graduates and general public. A certificate of participation will be offered to candidates who complete 75% attendance. Course will be conducted online on Saturdays from 9AM to 1.15PM.
The eminent faculty includes Dr K.Kanag Isvaran,PC, Dr Harsha Cabral,PC, Ms Shehara Varia AAL, Senior Attorneys at Law Mr Prasantha Lal de Alwis, Mr Lasantha Senaratne, Mr Ranil Angunawela, Mr Lakshmanan Jeyakumar, , Mr Thishya Weragoda, Mr Nishan Premithiratne, etc.
For further details please contact via programs@iclp.lk, iclp@eureka.lk or 0722775780
ICLP Diploma in Commercial Arbitration
The Institute for the Development of Commercial Law and Practice (ICLP) conducts a Diploma Course in Commercial Arbitration which provides a comprehensive understanding to the legal framework of international commercial arbitration in Sri Lanka, particularly an introduction to the Arbitration Act No.11 of 1995, fundamentals of the International Commercial Arbitration process and procedure, Construction Adjudication, Pleadings and Award writing.
The time period of the course is 108 hours and lectures are conducted online via MS Teams on Saturdays from 9am to 11.15pm.
The eminent resource panel is headed by Dr K. Kanag-Isvaran PC and the Course Director is Dr Harsha Cabral, PC. The members of the panel include Ms Shehara Varia, FCIArb, (Secretary General –ICLP Arbitration Centre), Mr Chandaka Jayasundere, PC, Prof Chitra Wedikkara, Dr Ananda Ranasinghe, Mr Viraj Dayaratne ,PC, Mr Lakshmanan Jeyakumar, AAL, MCIArb, Mr Aruna de Silva, AAL, MCIArb, Mr Nishan Premithiratne, AAL, MCIArb, Mr Amrit Rajapakse, AAL MCIArb), The Institute has produced more than thousand diplomates from diverse professional backgrounds such as construction, and legal. The knowledge on the Commercial arbitration has become vital as arbitration has become the most sought after alternative dispute resolution mechanism in cross border transactions.
The Short Course in Company Law
The course content covers the formation of a company, activities, rights and obligations of Shareholders and Directors, Amalgamation, corporate finance and financial statements Termination of Corporate life, Corporate Governance etc. The knowledge will be useful to avoid unnecessary legal complications in day to day business operations and efficiently oversee business management of a corporate entity.
The target audience is corporate lawyers, interested professionals, students, under graduate etc. A participatory certificate will be issued to successful participants. Concessions offered for students, under graduates, Attorneys at Law less than two years' experience. Eminent faculty consists of Mr Lakshmanan Jeyakumar, Ms Praveeni Algama, AAL, Mr Zafry Zallaf, AAL) headed by Dr K.Kanag-Isvaran,PC.
Profile
The ICLP Arbitration Centre (Centre) which was set up in 15th March 1996, is a separate body of the Institute for the Development of Commercial More
Courses
Register for Courses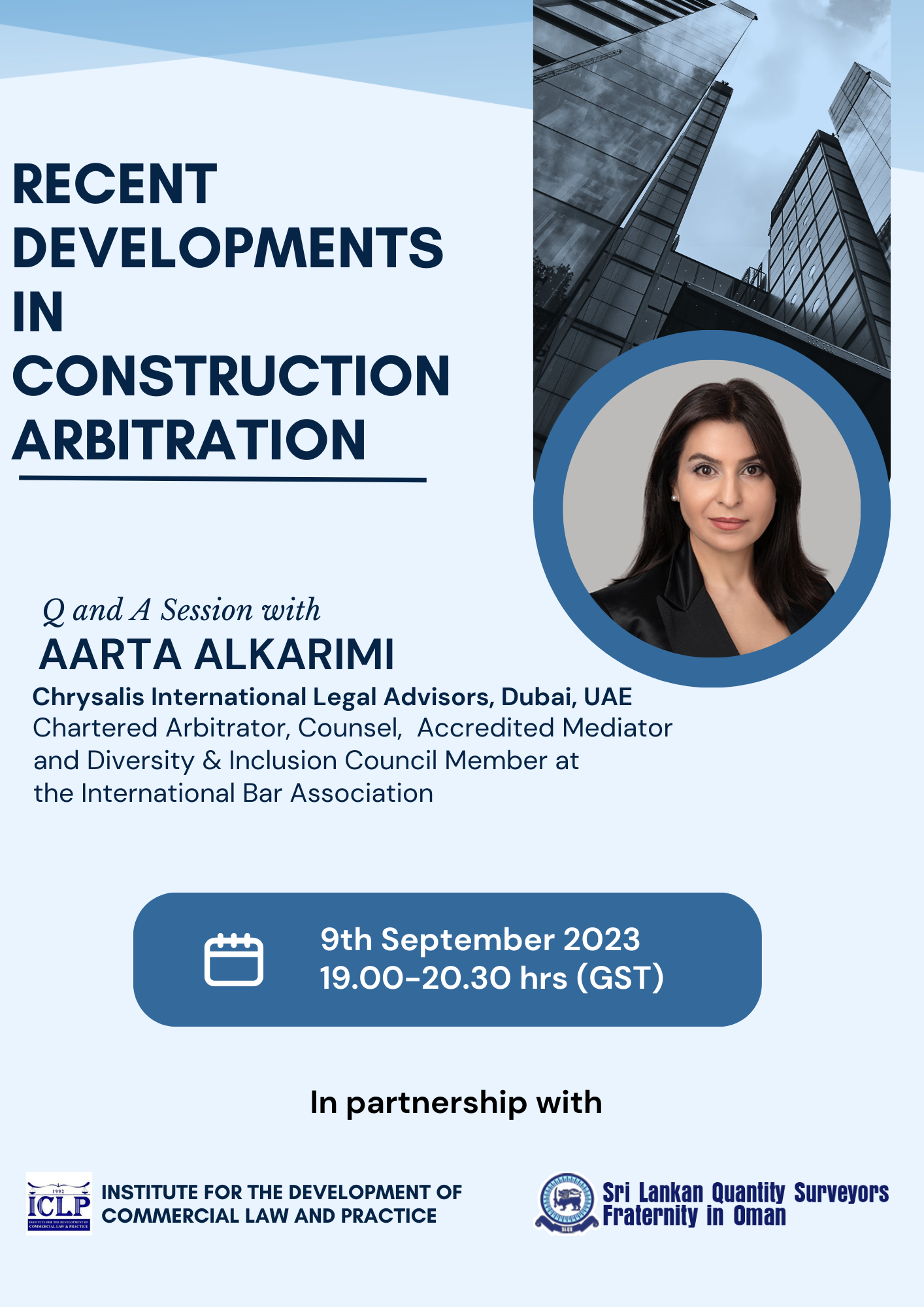 Dear Sir / Madam,
You are invited to a Zoom webinar. When: Sep 9, 2023, 07:00 PM Muscat Topic: Recent Developments in Construction Adjudication Register in advance for this webinar:
https://us02web.zoom.us/webinar/register/WN_AXYzIx2pRwGDuh9hi6raYQ
Approval for registration will be done before the event and you will receive a confirmation email containing information about joining the webinar.